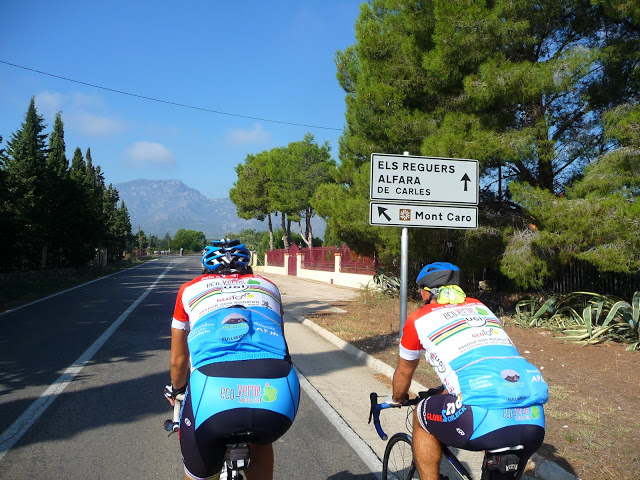 Road routes
Bike route through Montsià region
This circular route starts at the Hotel in the direction of Aldover on the C-2, with a warm-up of approximately 8 kilometres to begin your conquest of the first pass, Alfara de Carles. Follow the TV-3422 for at least 12 kilometres on winding roads of up to 10% that climb up into the eastern mountain system of the Parc Natural Els Ports, exceeding a height gain of 330 m once you reach Alfara de Carles.
Taking the TV-3422, leave the village and the natural park behind and drop down towards Els Reguers (km 27), cross the Barrancs de Sant Antoni-Lloret-la Galera and take Carretera Reguers F to Horta Baixa (km 31) and Roquetes (km 32) in order to cross the Ebro River at the Pont de l'Estat bridge in Tortosa (km 34) and ride 20 kilometres along the eastern bank of the Ebro towards Amposta. This is a unique stretch with great natural beauty, combining the riverside façade of the Ebro River with the area's characteristic agricultural landscape and riverside woods.
When you reach Amposta (km 48), cross the river on the N-340A to visit the Parc Natural del Delta de l'Ebre in the direction of Sant Carles de la Ràpita. Upon reaching the city, continue along Carrer CN-340 Mare Nostrum to enjoy 8 kilometres of coastline in the direction of Alcanar. This stretch will help you prepare for the second and last climb on the route.
From kilometre 73 you will start to climb on the N-340 in the direction of Alcanar. From this town, you will start your conquest of the south face of the mountain system that accompanies the Serra de Montsià towards Ulldecona, passing the slopes of these mountains with gradients of up to 10%. The descent to Ulldecona (km 85) takes you along the T-331 through the Montsià and Godall valley to head towards Terres d l'Ebre, enter Santa Bárbara (km 100) and follow the C-12 some 13 kilometres to the Hotel.
DISTANCE

114.5

km

DURATION

2.58

h

HEIGHT GAIN

459

m

DIFFICULTY

Medium