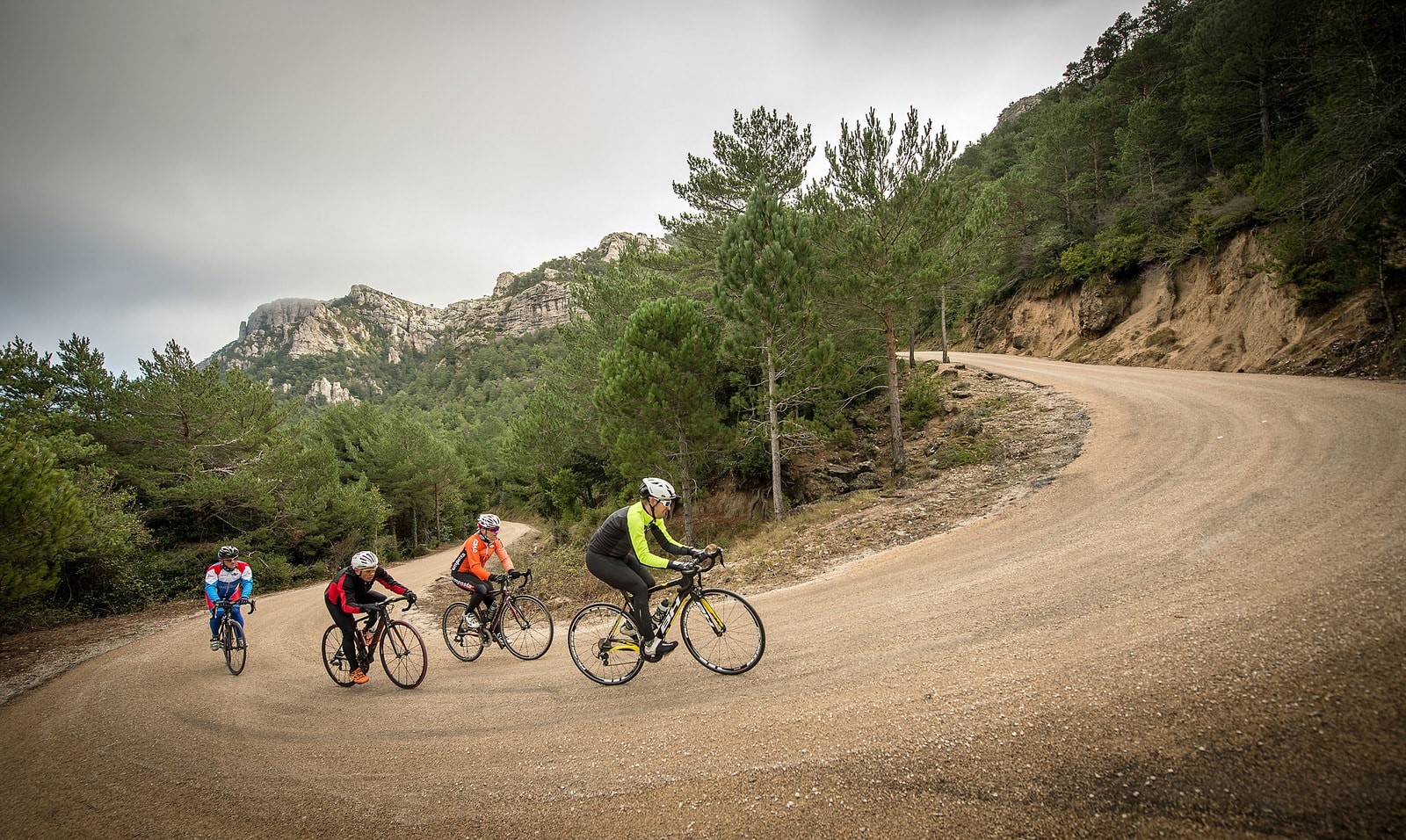 Road routes
Bike route through Montsià region from Tortosa
A circular route with a high level of difficulty that connects villages of the Terres de l'Ebre and circles the Serres de Cardó-el Boix, ending with the ascent to the mountain pass of Mont Caro and return to the Hotel.
To start this route of approximately 123 kilometres, take Avinguda de Catalunya to cross the Pont de l'Estat bridge and reach the right bank of the Ebro that will guide you through the Tortosa exit of the T-301 to a route with very low gradients to the village of Tivenys (km 12), where you start climbing a series of 8% ramps to begin the ascent of Coll de Som, going around the north face of Cardó-el Boix to Rasquera (km 31).
From Rasquera, ride 12 kilometres to enjoy the east side of the mountain range with a series of low gradient slopes before starting your climb towards El Perelló (km 51), where you continue along the N-340 towards Perelló Mar (km 58) and follow the Ebro Delta towards the Mediterranean in the direction of  L'Ampolla (km 60), reaching the town of Camarles (km 65) where you take the N-340A road across the delta plain to L'Aldea (km 71). From this village, take the C-42 road to enter the alluvial plain of the Ebro once again towards Tortosa and prepare for the main event on the route, the climb to Mont Caro.
After travelling 87 kilometres along the Cardó-el Boix ramps and the plains of the Ebro Delta, get ready to start ascending Mont Caro on a winding route that starts with ramps of 9-13% from kilometre 93 to km 103. These 10 kilometres are very demanding with a break of 2 kilometres; you should then prepare yourself for climbs of up to 19% in the last 3 kilometres needed to climb Mont Caro.
Once you have reached the top of Mont Caro and enjoyed a well-deserved descent, all that is left to do is ride a few kilometres across the Ebro Plain to the Hotel.
DISTANCE

137.2

km

DURATION

6.51

h

HEIGHT GAIN

2054

m

DIFFICULTY

High