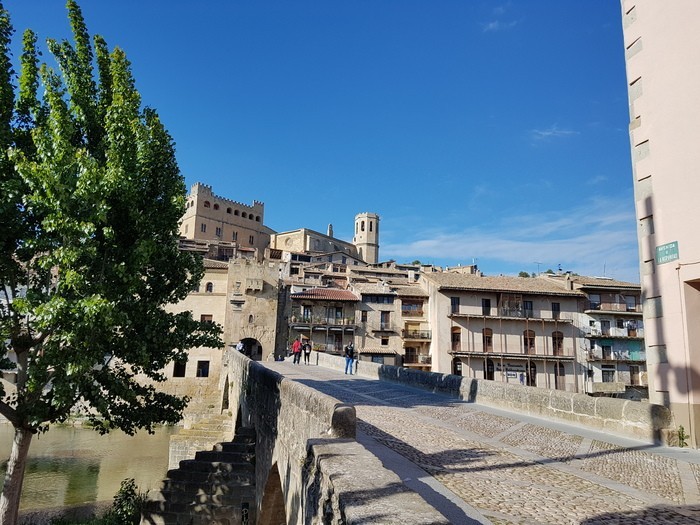 Road routes
Round trip of Parc Natural dels Ports by bike
This round trip of the Parc Natural dels Ports starts on the west side of the park. On leaving the Hotel, head south on the C-12 towards Raval de Cristo. At kilometre 2, turn right to enter Carrer de l'Horta and take the TV-3421 towards the Barranc de Sant Antoni via Mas de Barberans.
From kilometre 4 you start a constant slight climb until kilometre 13, where you find a first ramp of 7% that takes you to Mas de Barberans (km 16), a second ramp of 3 km to the Barrancs de Sant Antoni-Lloret-la Galera (km 19) then a series of ups and downs for over 11 kilometres to La Sénia. This is where you start the ascent to the southern sector of Parc Natural dels Ports along the CV-105 to the Ulldecona reservoir (km 38) where you can take a rest in a unique location before continuing to climb; at the start is the first demanding 5-kilometre ramp with a gradient of 7%, reaching an altitude of 690m, then a brief respite for one kilometre, and next a climb up a second 10-kilometre ramp with gradients of up to 10% at an altitude of over 1,170 m. Finally, head towards Castell de Cabres (km 61), the last part of this southern section that goes along the CV-105 before reaching the top at 1,224 m at kilometre 72 of this round trip.
Descend through the west side of the park, crossing the town of Herbés (km 84) in the direction of Fuentespalda, entering the autonomous community of Aragón.
To cross Fuentespalda, climb a 7-kilometre ramp with gradients of up to 5%. When you reach Valderrobres (km 108), continue along the A-231 some 12 kilometres towards Arnes, crossing back into Catalonia again. Once in Arnes (km 120), keep descending to the area of Horta de Sant Joan (km 127) at an altitude of 466 m, following the T-330 until you reach Prat de Comte (km 135), the northernmost point of this round trip of Parc Natural dels Ports.
Leaving Prat de Comte behind, continue for 11 kilometres along the N-230C until you reach the junction with the C-12, which will take you south for 14 kilometres following the Ebro River as it passes through Xerta (km 149) and Aldover (km 153) to Tortosa, the end of this trip.
This round trip of Parc Natural dels Ports is designed for high-performance cyclists as the route is 160 kilometres long and has an accumulated positive height gain of some 2,780 m.
DISTANCE

163.4

km

DURATION

8.9

h

HEIGHT GAIN

1851

m

DIFFICULTY

PRO