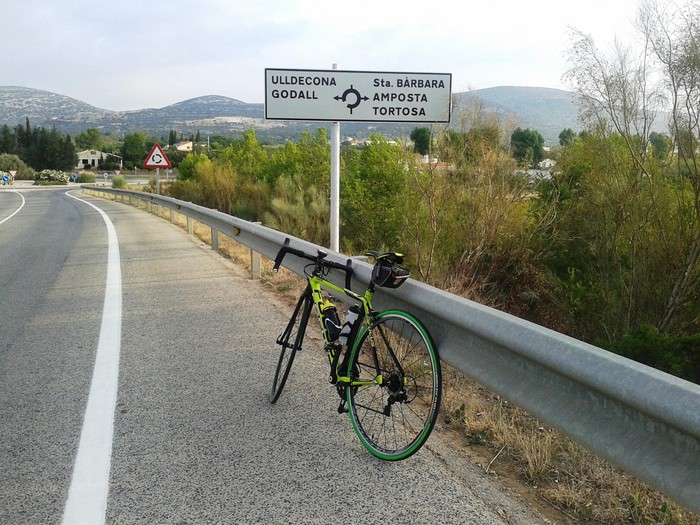 Road routes
Round Trip of Montsià by bike from Tortosa
This is a circular route of approximately 80.27 km that starts from the Hotel and runs from the Terres de l'Ebre to the Mediterranean coast, passing through 6 villages in the area and going round the Serra de Montsià.
Altitudes on the route range from 174 m to sea level, with an average gradient of 0.9% and an accumulated height gain of 465m. The first section of this 30-kilometre route goes between Tortosa and Sant Carles de la Ràpita, crossing the Ebro River twice: at kilometre 1 over the Pont de l'Estat bridge in Tortosa and at kilometre 7 on the CN-340 as you come into Amposta. There are slight changes in height on the route, with a climb presenting little difficulty at kilometre 8, and an uphill of almost one kilometre at 6%.
From Sant Carles de la Ràpita, ride 7 kilometres along the Mediterranean coast, taking the N-340 to climb to Alcanar at 50 m above sea level; this is the starting point for a long climb with a gradient of up to 7.5% up to 162 m above sea level to enter the western sector of the Serra de Montsià to reach the summit at an altitude of 174 m.
Once at the top, descend to the valley formed by the mountain system of Montsià and the Serra de Godall up to the town of Ulldecona (km 51).
Leaving behind Ulldecona, cross the T-331 passing the Bassa de la Llacuna (km 54), Les Ventalles (km 59) to Santa Bárbara (km 67), where you start the last section of the route crossing the agricultural crops of the Terres de l'Ebre until turning off onto the C-12 at kilometre 75 of the route and heading towards Tortosa.
DISTANCE

80.3

km

DURATION

6.41

h

HEIGHT GAIN

251

m

DIFFICULTY

Medium