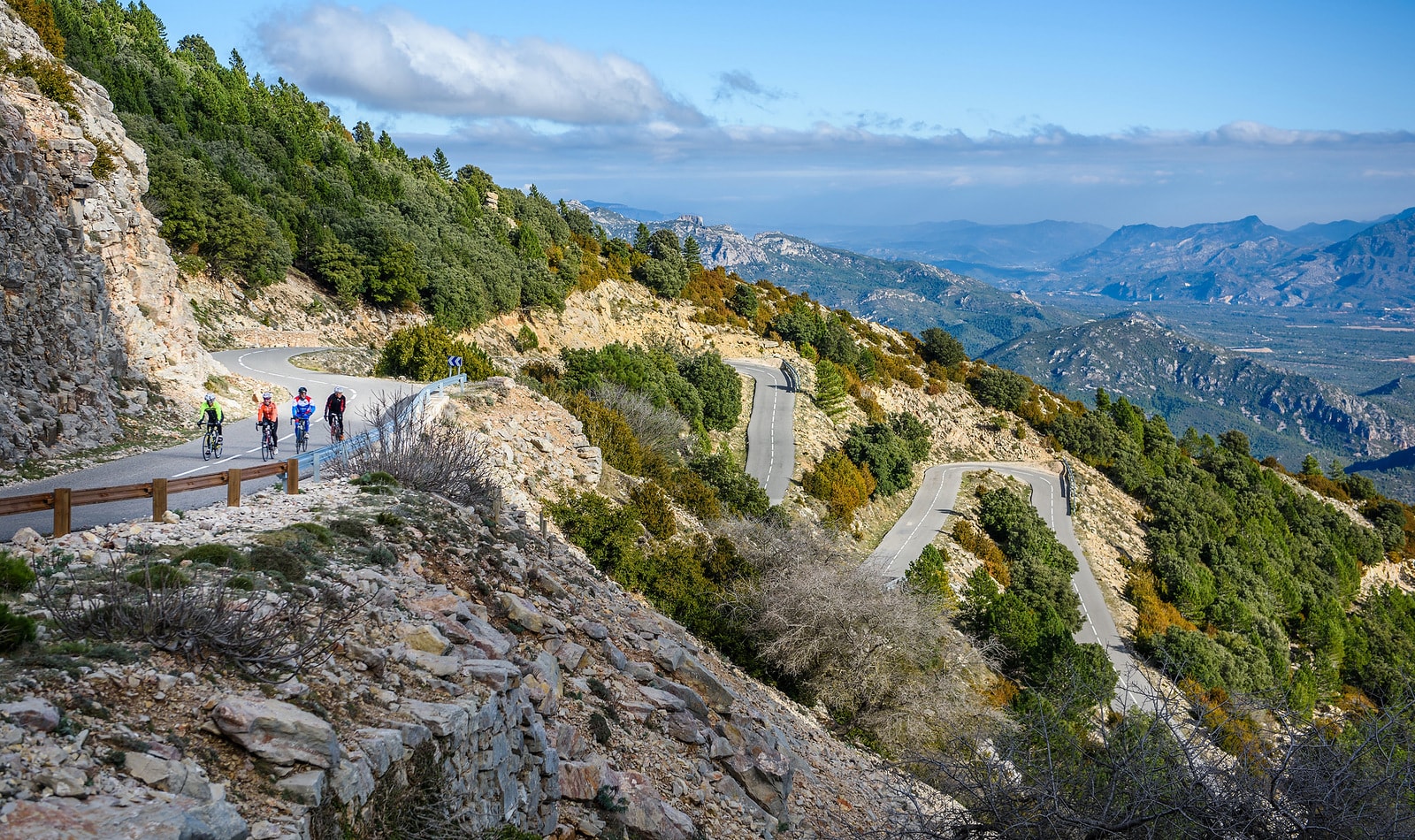 Road routes
Bike route from Tortosa to Mont Caro
This route, which is very technically and physically challenging, takes on one of Catalonia's best-known mountain passes and has formed part of the Volta a Catalunya several times. It involves a height gain of almost 1,500 metres and 20 km of climbing by road.
Leave the Hotel, heading towards the town of Roquetes in the direction of Mont Caro. These 10 kilometres will help warm up your muscles and get you ready to climb the highest mountain in the province of Tarragona and one of the most visited places in Parc Natural dels Ports.
The first demanding ramps with a gradient of 9% start at kilometre 10, with 7 kilometres of winding curves until the first rest stop. This point exceeds a height gain of approximately 800 m.
You can then enjoy a short respite of 2 kilometres with an average gradient of 3% before starting the climb to the summit. This demanding stretch has gradients of up to 17% that will take you to the top of the mountain at a height of over 1,400 metres.
After enjoying the views of the natural park and the Ebro valley from the top of Mont Caro, start your descent along the same winding route down to the foot of the mountain and ride the last 10 kilometres back to the Hotel, no doubt with many anecdotes about your trip to this important and monumental mountain pass.
Getting up to the summit of Mont Caro involves being able to cope with over a dozen climbs with gradients of 10% in intervals of up to 700 metres; this route is quite a challenge, perfect for professional cyclists and true aficionados of the sport.
DISTANCE

47.6

km

DURATION

2.22

h

HEIGHT GAIN

1473

m

DIFFICULTY

High